This very popular workout will offer a cardio, kick boxer's workout, concentrating on footwork, proper hand & foot coordination with basic kicks involved. This is a non-contact workout. Boxing equipment will also be used: punch mitts and boxing gloves.
This is a fat burning cardio workout. You will kick, punch and bob 'n' weave your way to a higher level of fitness!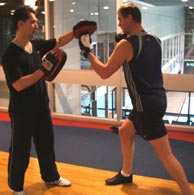 What Is Circuit Training?
Build cardio endurance and muscular strength in this challenging total body workout. Circuit training combines, free weight, body-weight and boxing in 1-minute stations.
What improvements will it have?
The aim circuit training is to keep the heart rate high, this will quickly get you into the fat burning zone. Not only will you burn fat, you will also tone and strengthen your muscles. Giving you an all over body and cardiovascular workout.